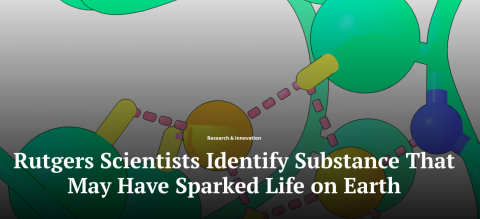 A team of Rutgers scientists dedicated to pinpointing the primordial origins of metabolism – a set of core chemical reactions that first powered life on Earth – has identified part of a protein that could provide scientists clues to detecting planets on the verge of producing life.
The research, published in Science Advances, has important implications in the search for extraterrestrial life because it gives researchers a new clue to look for, said Vikas Nanda, a researcher at the Center for Advanced Biotechnology and Medicine (CABM) at Rutgers.
Other Rutgers researchers on the study include: Distinguished Professor Paul Falkowski and Jennifer Timm, a postdoctoral associate, in the Environmental Biophysics and Molecular Ecology Program, Department of Marine and Coastal Sciences at the School of Environmental and Biological Sciences; Joshua Mancini, Douglas Pike, Saroj Poudel and Alexei Tyryshkin, postdoctoral associates, and doctoral student Jan Siess at the Center for Advanced Biotechnology and Medicine and in the Department of Biochemistry and Molecular Biology at Robert Wood Johnson Medical School; and Kate Waldie, an assistant professor of the Department of Chemistry and Chemical Biology at the School of Arts and Sciences.