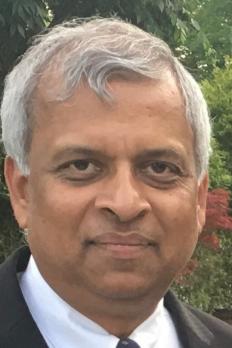 Krishnamurthy "Mani" Subramanian,
MS
Research Teaching Specialist IV
Education
M.S. Mathematics & Computer Science, Stevens Institute of Technology, 1987
Research Focus
Coupling functional genomics techniques with computational modeling to understand gene regulation in health and disease
De Meirleir K, Mijatovic T, Subramanian K, Schlauch K, Lombardi V. Evaluation of four clinical laboratory parameters for the diagnosis of myalgic encephalomyelitis.
Journal of translational medicine

.
2018;
16
(1)
:322
. doi:10.1186/s12967-018-1696-z.
Singh S, Stafford P, Schlauch K, et al. Humoral Immunity Profiling of Subjects with Myalgic Encephalomyelitis Using a Random Peptide Microarray Differentiates Cases from Controls with High Specificity and Sensitivity.
Molecular neurobiology

.
2018;
55
(1)
:633-641
. doi:10.1007/s12035-016-0334-0.
Lombardi V, De Meirleir K, Subramanian K, et al. Nutritional modulation of the intestinal microbiota; future opportunities for the prevention and treatment of neuroimmune and neuroinflammatory disease.
The Journal of nutritional biochemistry

.
2018;
61
:1-16
. doi:10.1016/j.jnutbio.2018.04.004.
Schlauch K, Kulick D, Subramanian K, De Meirleir K, Palotás A, Lombardi V. Single-nucleotide polymorphisms in a cohort of significantly obese women without cardiometabolic diseases.
International journal of obesity (2005)

.
2019;
43
(2)
:253-262
. doi:10.1038/s41366-018-0181-3.