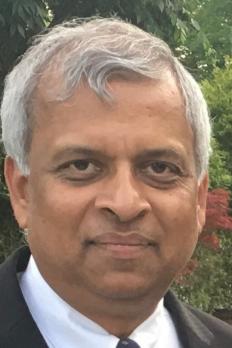 Krishnamurthy "Mani" Subramanian,
MS
Research Teaching Specialist IV
Education
M.S. Mathematics & Computer Science, Stevens Institute of Technology, 1987
Research Focus
Coupling functional genomics techniques with computational modeling to understand gene regulation in health and disease
Subramanian K, Payne B, Feyertag F, Alvarez-Ponce D. "The Codon Statistics Database: A Database of Codon Usage Bias".
Molecular Biology and Evolution

.
2022;
39
. doi:10.1093/molbev/msac157.
Luzuriaga-Neira A, Subramanian K, Alvarez-Ponce D. "Functional Compensation of Mouse Duplicates by their Paralogs Expressed in the Same Tissues".
Genome Biology and Evolution

.
2022;
14
. doi:10.1093/gbe/evac126.
Paulat NS, McGuire E, Subramanian K, et al. Transposable Elements in Bats Show Differential Accumulation Patterns Determined by Class and Functionality.
Life

.
2022;
12
. doi:10.3390/life12081190.
Schlauch K, Kulick D, Subramanian K, De Meirleir K, Palotás A, Lombardi V. Single-nucleotide polymorphisms in a cohort of significantly obese women without cardiometabolic diseases.
International journal of obesity (2005)

.
2019;
43
(2)
:253-262
. doi:10.1038/s41366-018-0181-3.