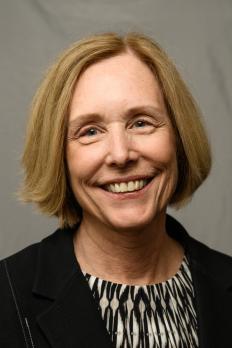 Ann M. Stock,
PhD
Associate Director of CABM
Education
A.B. Biochemistry, University of California, Berkeley, 1979
Ph.D. Comparative Biochemistry, University of California, Berkeley, 1986
Bio
Ann Stock is Professor of Biochemistry and Molecular Biology at Robert Wood Johnson Medical School and Resident Faculty Member at the Center for Advanced Biotechnology and Medicine since 1991, also previously serving as Associate Director (2008-2012) and Interim Director (2013-2019).  Dr. Stock's research interests focus on bacterial signal transduction and the molecular mechanisms that allow cells to elicit adaptive responses to changes in their environments.  She participated in the discovery and characterization of a fundamental two-component phosphotransfer mechanism, now known to mediate the majority of bacterial signaling.  Structure-function studies in the Stock lab have established the three-dimensional folds and conserved features shared by hundreds of thousands of response regulator proteins.  Her current research focuses on understanding how specific features of signaling pathway architecture provide regulation of gene expression that is optimized for the specific needs of individual systems.  This research enables therapeutic strategies to promote beneficial host-microbe interactions and develop new antibiotics to combat infectious disease.  Research in the Stock lab has been supported by the NSF, NIH MERIT and MIRA awards, and the Howard Hughes Medical Institute (1994-2011).
Research Focus
Bacterial signal transduction
Distinguished Professor of Biochemistry and Molecular Biology, RWJMS
Co-Director - Rutgers Graduate Training Program in Biotechnology
Member
Cancer Institute of New Jersey
American Association for the Advancement of Science (AAAS), Fellow; American Academy of Microbiology, Fellow; American Society for Biochemistry and Molecular Biology, Education Fellow  
Present: Editorial and Advisory Boards, PLoS Biology; Member, Faculty of 1000 (cell signaling); Study Section Member, NIH NIGMS Training, Workforce, and Development (TWD-B); Chair, External Advisory Committee, University of Oklahoma NIH COBRE in Structural Biology; Peer Review Committee, Life Science Research Foundation (LSRF); Accreditation Steering Group, American Society for Biochemistry and Molecular Biology (ASBMB); Training and Career Opportunities Subcommittee of the Science Policy Committee, Federation of American Societies for Experimental Biology (FASEB); Director's Leadership Council, Cancer Institute of New Jersey (CINJ); Founding Board, University of California Berkeley Biology+Business Program, Board of Directors, Rutgers University Foundation
Past: Editor, Journal of Bacteriology; NIH National Institute of Dental and Craniofacial Research Board of Scientific Counselors (Chair); American Society for Biochemistry and Molecular Biology (Council Member, Education and Professional Development Committee, Finance Committee); Gordon Research Conference on Sensory Transduction in Microorganisms (Chair); Cancer Institute of New Jersey Foundation Board of Trustees